UPDATE: The STLS for the psrtas for the stand shown below can be found in my designs on Thingiverse.
UPDATE: I've since built another Samaritan. This one full-sized and finished more realistically. More pics later, but here's a shot of it right after finishing it.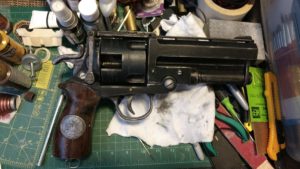 Back to the original post…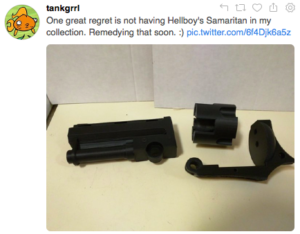 I probably implied I was then going back to work on the 22″ Round 2 Space 1999 Eagle Transporter I've been tweeting about, but… I couldn't resist. I really do lament not having a Samaritan (aka Good Samaritan) in my collection and constantly kick myself for not having bought one of the Sideshow Collectibles replicas back when they came out. So I downloaded one of the better 3D models out there (thanks danonator and JerseyBeast) and, after tweaking the top strap/breach (I know, it's a revolver, but it has a breach in the top strap) and some scaling I started printing it to put together later.
And then I couldn't help myself. The print came out so nice. And my re-modeled breach made me happy and… This happened over the course of two days. The stand in the first pic is a later addition. I designed and printed the 2 arms, nameplate, and ammo holder, then painted them to look like old cast bronze. I stained and weathered the wooden box, printed the BPRD logo from the original hilt again and put that all together. I also printed some of d3delta3d's ammo.)
I sanded the print, but I didn't really go out of my way to hide that it's 3D-printed. That's probably most evident on the cylinder and grip. But I did sand, rub down with acetone and then paint the parts with a hammered metal spray. That was topped with some flat clear coat. Then I weathered it with silver (plus rub down with my filthy paint-covered fingers).
The hammer and trigger were painted with metallic shimmer and then dusted with flat black. The pin and one of the screws were done in copper and then smudged to flatten.
The grip is acrylic paint starting with a dark brown, some watered-down tan on top of that, then black wipes with a brush and later a wide-cell sponge to create the grain. Several coats of clear gloss and it was a fair approximation of the real thing (although the grip isn't on-model at the crown, but it's close enough). I added the BPRD medallion, which was painted silver, then weathered with black acrylic and wiped down to a dull iron look.
The ring in the butt (stop laughing) is a piece of jewelry, a captive bead ring, dulled and squeezed into a circle. Then I tied a piece of leather cord to it (after dipping into some coffee to stain it – yes, I was drinking coffee at 10pm, because I'm an adult and I can do what I want.)
And there you have it. A 'pretty close' replica of Hellboy's [Good] Samaritan. I feel better now. Well, I will be after I print some shells for it and a stand. Then, I swear I'll get back to the Eagle!
But first… maybe I'll fix the scale and print another that I can make more accurate. For later, I mean. Really!